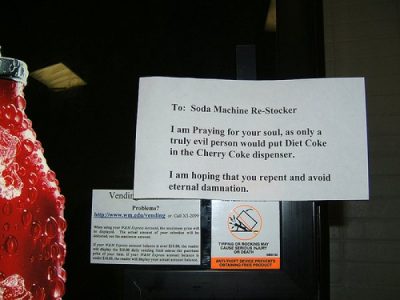 Keeping your vending machine stocked with snacks and drinks is one of the keys to success: no snacks means no sales. After a few months of sales you should know your vending machine well enough to determine your own restocking schedule. If you are new to vending machines, though, here are a few tips to help you keep your machine stocked and running:
In general, candy-only machines should be restocked about once per month. Snack machines should be restocked every week or two, and soda vending machines will usually need to be restocked once per week.
Coffee and hot-drink machines (especially during the winter) may require restocking twice per week.
When restocking your vending machines, check the expiration dates on all of the snacks and drinks. Candy and some sodas usually have longer shelf-lives, but chips and fruits and vegetables may expire more quickly, requiring more frequent restocking.
When restocking, inspect your vending machine for any needed maintenance or parts. Look for error codes, blinking lights, or inoperative hardware. Also, test your coin mech and bill validator for proper operation.
Restocking and inspecting your vending machine regularly will help keep it running well and keep your sales high. If you need assistance with troubleshooting, repair of parts or components, or software updates, Maximum Vending provides complete service and repairs to all types of vending machines. Please call us at (505) 980-6764 if we can be of service to you.