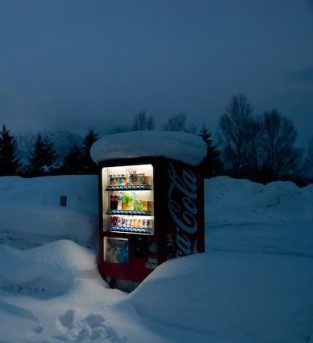 Many vending machine operators find that their busiest and most profitable time is in the warmer months. During the colder months vending machine sales sometimes slow down. As we get closer to colder weather, to help keep your sales high during the winter there are several steps you can take:
Assess Your Vending Machine Location: Take another look at where your vending machine is located. The goal is always to have your vending machines in high-traffic areas. During the winter, cold weather may cause a shift in what doors customers tend to use to enter and exit the building. If needed, change the location of your machines in the building to keep them highly visible to your customers.
Consider Changing the Items You Stock in Your Vending Machine: If there are any items in your vending machines that haven't been selling well, consider replacing them with alternate snacks or drinks. You can also consider seasonal changes in stocking your machines. During cold weather customers sometime want higher calorie "comfort snacks", and if you have a hot drink machine available to place at a location (such as coffee or hot chocolate) your sales will often increase.
Check the Snack and Drink Prices on Your Machine: Evaluate your per-item sales to see if you need to change the pricing on your snacks. Some items may not sell well because the price is perceived to be too high. Adjusting these prices may help to increase sales, especially on specific items.
Perform General Cleaning and Repairs: Winter is a good time to thoroughly clean your machine, perform any needed upgrades, and repair any needed parts. The appearance of your machines is always important, so take this time to upgrade the lighting, replace any worn signage, and repair any damaged or malfunctioning parts.
The cold weather months are a good time to re-assess your machine, the items you stock, the prices you charge, and the machine locations. Adjusting for seasonal changes can help you keep your sales high, and get your machine ready for the busier summer months. Maximum Vending provides repair services for all types of vending machines, so please Contact Us at (505) 980-6764 if you need repairs or parts. Thanks.