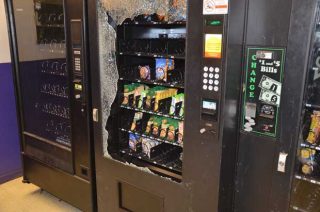 Vending machines are a great source of income, but the cash inside the machine can also make it a target for thieves or vandals. Repairing vandalized vending machines can be expensive and result in lost vending income, so to help protect your investment there are several steps you can take:
Place the vending machine in a visible, high-traffic location. The more visible a vending machine is the less likely it is to be vandalized. Placing your vending machine in an area that is well-lit and visible to people will make the machine less of a target.
Monitor the vending machine with security cameras. Visible security cameras and warning stickers or signs indicating the vending machine is being watched will help deter many thieves or vandals.
Use warning signs to your advantage. In addition to security camera signs, stickers such as "All cash and coins removed daily" or "Alarm System Active" will also deter criminals.
Change the locks. If you purchased a pre-owned vending machine, changing the tubular or keyed lock can reduce the chance of other people gaining access to your machine.
Secure the vending machine with a security cage. While not the least expensive or prettiest solution, steel security cages are very effective at preventing vending machine vandalism.
Whether you are a business owner with vending machines on site for your employees, or you own the vending machine and service the route, these steps will help you protect the vending machine.