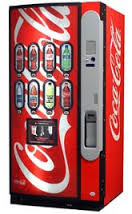 Last night, we received an email with the question:
" I am thinking about buying a used soda machine on Craigslist, but don't know what to check for. How can I tell if the machine is worth the price?"
Buying used vending machines on Craigslist can be tricky. There can be some good deals to be found if you know what to look for, but many of the machines sold on Craigslist can have problems with parts like refrigeration units that are more expensive to fix than the machine may be worth.
To help, we wrote a tip sheet on our Vending Tip Sheets page called "5 Tips for Buying Used Vending Equipment." If you want to read through that, it will give you a place to start, and some things to look out for.
Thanks, Annie, for the email, and please let us now if you have any other questions!
Nick